Destroyers of Planets



Developers

Publishers

None

Rating

NA

Genres

RPG

Release Date

Unreleased
Destroyers of Planets is an unfinished Adobe Flash RPG video game developed by Jacob Grahn. The game was announced on 2006-04-13 after he finished Uber Pool and its last known mention was in the FAQ section in October 2008.[1][2]
Gameplay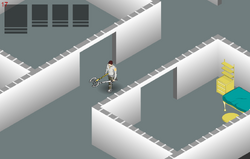 Destroyers of Planets would have been a traditional turn-based RPG where players battle a variety of enemies using weapons such as pic-axes, swords, guns and magic. Players would also interact with various people and objects in the overworld by pressing "a" to perform tasks outside of battle.
Trivia
The main character's names (Derron, Carina, Grayan and Fitz) were later used for servers in the Platform Racing series.
Jiggmin posted updates during the game's development that revealed numerous planned features and other information, including:[3]

Outfits for the main characters were going to be purchasable.
Pressing "s" would pull up a menu, while "d" wouldn't do anything, making it a two-button game.
The plot was co-written by Andy Dennis and nearly finished.
Unlike Kimblis the Blue, which was split up into multiple maps, the entire game would've been a single, continious level.
To convey their personalities, each character's actions when interacting with others would vary. In the case of wanting an item a person won't give away:

Derron could scare them into handing it over.
Fitz could attempt to steal it.
Carina could get military funds and buy it.
Grayan could talk them into giving it away.

Each character would have a unique ability needed to progress in some areas.
Ceilings were only going to fade once you entered the room, similarly to walls, and some doors were going to be locked.

The game was archived and is full playable.
References
External Links