Futurism



Developers

Publishers

None

Rating

NA

Genres

Strategy, trading card game

Release Date

2013-12-05 (Closed Beta)

2014-05-02[1] (Open Beta)
Futurism
is an unfinished JavaScript online multiplayer strategy trading card video game developed by
Jacob Grahn
that was worked on from 2013-10-07 until 2014-08-23.
Gameplay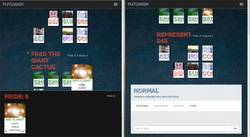 Futurism is an online game where players battle one another using cards. Once logged in, players are taken to the main lobby, which is split into two sections: one on the left containing player related options (guild, chatroom, members online) and the other having options to join or start matches. When creating matches, players can choose from one of the three pre-made modes: Skirmish, Battle and War or set their own conditions.
The game features card and deck editors that allow users to freely create their own. When creating cards, players may give them a name and description, choose their amount of health and attack power, which will affect how much pride they consume, upload card art, choose their faction and subsequent abilities. Decks can consist of any cards the player chooses, though they're required to have a player card.
Players can participate in matches with up to 3 others, as well as spectate on-going matches. Each person begins by choosing their deck, with the one having the lowest pride going first. Matches start with only one pride and players earn two every turn for their player card in addition to one for every other card they have on field. The main objective of the game is to take out the player card, with the match ending once it's down regardless if other cards are in-play. Upon completion, all players gain experience points, fame and fractures.
Updates
See also: Futurism/Update History
Shut Down
Futurism's main website was closed unannounced on 2014-06-21, while the beta testing version remained active for several more weeks before also shutting down in July.[2] Unlike Luna, however, Jiggmin continued posting updates for the game via GitHub until August 23rd before abandoning it.[3]
While Futurism is open-sourced, fan projects to revive it have been unsuccessful due to unfamiliarity with its programming language, rendering it unplayable.[4]
Trivia
The game's title is a reference to the early 20th century art movement of the same name.
Jiggmin first expressed interest in making an online trading card game in a 2008-09-27 blog.[5]
Futurism was originally intended to be completed in one week as a challenge, with each day receiving a Baking Games the Hard Way video showcasing its progress. This plan was abandoned after the second day, however, and most traces mentioning it were removed, including the completed videos.[6]
"EDU-VIDS" originally featured a video about how to wash your hair in space  before tutorials were added.
Checking the client reveals that support for Armor Games, Kongregate, Newgrounds and Facebook accounts was planned, similarly to War of the Web.[7]
This was the first of Jiggmin's games to be available in multiple languages, which was possible via the help of Jiggmin's Village members.[8] All available languages include:

English
Korean
Spanish
Dutch
French
Italian
Polish
Lithuanian
Swedish
Norwegien
Hungarian
Russian

A different cut of Effing Meteors menu theme, "Dissolve" by Bjørn Lynne, is reused as the title screen music.
This was the first of Jiggmin's games to be open-sourced on GitHub.[9]
References
External Links