News
2018-05-02
Platform Racing 2 turns 10 years old today! To celebrate, players can login to receive an epic Party Hat, have their experience multiplied by 10 and be twice as likely to find prizes in levels.
A new server called "Annie" is also available, where players temporarily:
- Have an admin rank
- All parts and their Epic Upgrades
- Have their rank elevated to 2008
2016-06-18
It has officially been confirmed that Freegoose is Jiggmin's new website after his wife posted a photo of the two in a thread there.
Featured Article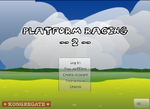 Platform Racing 2
is an Adobe Flash online multiplayer racing video game developed by
Jacob Grahn
that was released on 2008-05-02.
Read More
Poll
Which of the Platform Racing games is your favorite?