Mines



Developers

Publishers

Newgrounds

Rating

E

Genres

Mouse-only

Release Date

2006-03-20
Mines
is an Adobe Flash mouse-only video game developed by
Jacob Grahn
that was released on 2006-03-20.
Gameplay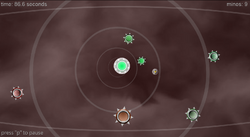 Mines is a tap-only game where players must continually click on mines to prevent them from detonating. Mines explode after 15.3 seconds and players start off managing three, with an extra appearing roughly every 10 seconds. Power-ups are available to assist them, including ones that automatically reset every mine or destroy one among others. Once the game ends, the player is given a score based on their time multiplied by accuracy, along with any bonus points they received.
Power-Ups
| Power-up | Name | Effect |
| --- | --- | --- |
| | -1,000 Points | Subtracts 1,000 points from the score. |
| | 1,000 Points | Gives 1,000 points. |
| | Freeze | Stops time for 7 seconds. |
| | Power Shot | Destroys a mine. |
| | Reset | Resets every mine. |
Trivia
While not mentioned in-game, the menu theme's internal name is "Gettin' it Done".
Jiggmin created all sound effects and music from scratch, a first.[1]
Once added to jiggmin.com, several updates were made, including removing references to Jiggmin's old website and updating the high scores link.
The main theme would later be reused for the outro in Motley Monday and other videos.
Due to a bug within Flash, it's impossible to play the official game with Flash Player versions above 19, as the game only reads their first number (currently "2" instead of "20") when it runs a check, rendering it unplayable. The game can be modified to remove the check altogether, though.
This game was originally named "MouseField" during development.[2]
References
External Links